Finally! I finished M's bedroom. You might remember that this bedroom redo was a Christmas gift. Pathetic to take so long, I know. When it comes to decorating I'm a "big picture" kinda girl and get lost in the details. So Christmas morning came, the furniture was in, the bedding & drapes were all there, the room was painted. And then, nothing. Blank walls, no accessories. Accessories are what finish the room & I'm at a loss when it comes to deciding what to use and where. I want everything to have meaning, especially in my decor or it just feels like clutter to me. I like bold "punches in you the face" wall art, I like people to go "what the heck, where'd you find that?". I'd like to be a decor rebel because its the only place in my life where I have rebelled. So I end up getting stuck in every room I do and then gradually add the "clutter" that glams up the rooms. With that said, the room is finally finished and little M couldn't be happier. (holding my breath that she doesn't change her mind on colors in 6 months like I would) Get ready for a super long post. The BEFORE shot.....
And the AFTER shots....
The sparkly white chair she asked Santa for. Santa couldn't find sparkly but furry works right?
Clipboards with modge podged scrap book paper to hold her notes, pictures, jewelry and clips. This girl knows accessories, I think I need a lesson.....
A 30x40 canvas I painted the same color as the pink wall. Then handpainted lighter pink polka dots. I had my sister Renee print me my favorite quote in white vinyl. Just so you know, vinyl lettering and canvas don't play nice with each other. Applying the letters wasn't the funnest, but I love it now! I cut out birds from scrapbook paper and applied to the wall with glue dots. The girls even helped cut out the birds. The wall just makes me happy, the picture however, does not do it justice. Have you ever tried to take pictures with a glaring hot pink wall? And to top it off, the window has turquoise curtains that really change lighting!
Here's a closer shot of the modge-podged clipboards. They come in handy for all her artwork and notes too!
The dresser my husband painfully painted and repainted and then I distressed it with minwax gel stain. I love the glass knobs from Hobby Lobby. Here's the before-
And here's a close up After shot:






Here's a close up of the polka dots. Originally I thought about painting them. Then, realized how skee wompus (sp?) they'd be. I also thought about vinyl, but realized that could be pricey. Next solution, and easiest!, was with cardstock. I found a thick, shiny white cardstock and cut them into 12" circles. Next I used 3M spray adhesive to apply. So easy and inexpensive. Total cost for the wall was $13.





This blog here gave me the idea for the poofy mobile, but I couldn't find her actual post, dangit, her blog is really good though. I made tissue pom poms and bought paper lanterns. The bedding was all purchased from Target. The side table and furry chair were from Pottery Barn. Break down of the room, don't really want to add it up, but I'm always wishing other bloggers would so here goes:






Bedding from Target- $90, new bed from a boutique only $200. Paint including oil based for dresser $140. (ouch that seemed high, but I double checked) We paid painters to paint the room since it was right before Christmas for $120. Cardstock for polka dots and clipboards, $14. 3M glue, $4. Clipboards, $6, I had 3 already. Table from PB teen, $40. Furry chair, on sale $80. Grand total is $694. But we could've saved $120 if we painted ourselves. $120 seems very reasonable after painting that dang dresser though! So there you have it. A complete makeover. I think it's the first room (besides bathrooms) in my house that feel done. Wow, I don't know what to think of that!
I've been featured on this great site!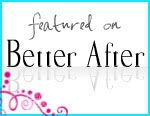 Linking up to these great sites: